Thursday, August 03, 2023
Tuesday, July 18, 2023
'
Elon Musk wants to create a superintelligent A.I. because he thinks a smarter A.I. is less likely to wipe out humanity
Wikipedia's Moment of Truth
Can the online encyclopedia help teach A.I. chatbots to get their facts right — without destroying itself in the process?
A.I. Could Solve Some of Humanity's Hardest Problems. It Already Has.
Demis Hassabis, the chief executive of DeepMind, discusses how A.I. systems can accelerate scientific research.
Powerful Personal Branding Prompts: Using ChatGPT To Build An Influential Online Presence
The Myth of Neutrality
Countries Will Have to Choose Between America and China ........ This is not a choice that most countries wish to make. Over the past decades, foreign capitals have come to enjoy security and economic benefits from association with both the United States and China. These countries know that joining a coherent political-economic bloc would mean forgoing major benefits from their ties to the other superpower. ....... The message to Washington and Beijing is clear: no country wants to be forced into a binary decision between the two powers. ........ The United States has hastened to reassure its allies that it feels much the same. .......... Even the United States would not join such an arrangement if it required ending its economic relationship with China, which would come at a tremendous cost. ........... The U.S.-Chinese competition is an inescapable feature of today's world, and Washington should stop pretending otherwise. ............ Washington played hardball. The Trump administration even went as far as to suggest to Poland that future U.S. troop deployments might be at risk if Warsaw worked with Huawei. The U.S. government warned Germany that Washington would limit intelligence sharing if Berlin welcomed Huawei; not long after, the Chinese ambassador to Germany promised retaliation against German companies if Berlin barred Huawei. Europe's largest economy was caught between its top two trading partners. ........... The Biden administration has signaled its desire to outstrip China in the development and production of semiconductors, quantum computing, artificial intelligence, biotechnology, biomanufacturing, and clean energy technologies. To do so, Washington will need to build domestic capacity in each area and limit China's ability to race ahead. Countries with niche capabilities will be caught between Beijing, which wants these technologies, and Washington, which wants to minimize Chinese access to them......... Already, Washington and Beijing are competing for the loyalties of Pacific Island states, although the contest in countries like the Marshall Islands, Micronesia, and Papua New Guinea has thus far produced a bidding war rather than a series of forced choices. .......... U.S. threats to cut countries off from intelligence sharing if they used Huawei—which supplied an all-in-one 5G network at a lower cost than anything the West could provide—were ineffective. ............ A sense, however, that the United States will be absent, noncommittal, or incompetent when the going gets tough will tempt them to align with or simply acquiesce to China's preferences.
This former CEO cut her 70-hour workweek down to 30 with 3 productivity hacks—start with 'tossing your to-do list'
My entire $4M business plan:

(feel free to steal) pic.twitter.com/8SVpnsyZBR

— Justin Welsh (@thejustinwelsh) July 12, 2023
ChatGPT and Bard Get New AI Chatbot Rival: Anthropic Debuts Claude 2
The new AI chatbot is available to people in the US and UK in open beta. Here's how to try it.
Claude 2
Claude 2 scores above the 90th percentile on the GRE reading and writing exams, and similarly to the median applicant on quantitative reasoning....... Think of Claude as a friendly, enthusiastic colleague or personal assistant who can be instructed in natural language to help you with many tasks. ........ Users can input up to 100K tokens in each prompt, which means that Claude can work over hundreds of pages of technical documentation or even a book. Claude can now also write longer documents - from memos to letters to stories up to a few thousand tokens - all in one go. ....... One of our partners is Jasper ........ They found that Claude 2 was able to go head to head with other state of the art models for a wide variety of use cases, but has particular strength for long form low latency uses. "We are really happy to be among the first to offer Claude 2 to our customers, bringing enhanced semantics, up-to-date knowledge training, improved reasoning for complex prompts, and the ability to effortlessly remix existing content with a 3X larger context window"
. We've expanded Claude's context window from 9K to 100K tokens, corresponding to around
75,000 words!
This means businesses can now submit hundreds of pages of materials for Claude to digest and analyze, and conversations with Claude can go on for hours or even days. .......... The average person can read 100,000 tokens of text in ~5+ hours[1], and then they might need substantially longer to digest, remember, and analyze that information. Claude can now do this in less than a minute. ......... You can drop multiple documents or even a book into the prompt and then ask Claude questions that require synthesis of knowledge across many parts of the text. ........ Claude can follow your instructions and return what you're looking for, as a human assistant would! ....... 100K translates into roughly 6 hours of audio ......... Assess the pros and cons of a piece of legislation ......... Rapidly prototype by dropping an entire codebase into the context and intelligently build on or modify it
My software businesses will generate over $4 million in 2023.

I have no idea how to write code.

My private equity company is building $500 million in storage.

I'd never built a building before.

You don't need to be an expert.

The biggest lie out there:

You have to be an…

— Cory Sylvester 📦 (@StorageDataDev) July 12, 2023
This week has been a heck of a week for the AI world so far…

- Code Interpreter is released to Plus Users
- Claude 2 goes into open beta
- @elonmusk announces X Ai
- SDXL 1.0 is available in Discord bot
- @beehiiv (what I send newsletters with) adds AI to their platform

And…

— Matt Wolfe (@mreflow) July 12, 2023
Thinking about how to continue to support our portfolio companies beyond our first investment…Right now, we only write one pre-seed check and do all follow-on / pro rata via SPVs.

Half the LPs I talk to: double the next fund size and roll it all in (pre+seed+A)

Half the LPs:…

— Jenny Fielding (@jefielding) July 12, 2023
"How much do you need to be financially free?"
My mentor asked.

10 years ago, I would have said 50K a month.
Today I'm fine with $7.5K

Your freedom number is the amount you need to live a great life.
Everybody has a different number based on their lifestyle.

What's yours? pic.twitter.com/cwLaTrHn83

— Virgil Brewster (@thevirgilbrew) July 12, 2023
How to grow an audience on Twitter:

2020: Memes
2021: Copy/paste Wikipedia articles
2022: Shitpost
2023: ?

— Charlie Light (@charliewrich) July 12, 2023
When someone tells me they "hate" Tucker Carlson or Andrew Tate I ask them "when was the last time you watched a 10+ minute segment with them?"

The answer is basically always "never"

If you "hate" either of these men you should watch this https://t.co/72ue5GV4uo

— Shaun Maguire (smc.eth) (@shaunmmaguire) July 12, 2023
The 10 mins test is a good one

— Elon Musk (@elonmusk) July 13, 2023
Here's my conversation with Benjamin Netanyahu (@netanyahu), Prime Minister of Israel, currently serving his 6th term in office. He is one of the most powerful and controversial men in the world. We talk about war, power, hate, corruption, and peace. https://t.co/hqnLxjHuhS pic.twitter.com/xuZ9OEvmdG

— Lex Fridman (@lexfridman) July 12, 2023
It is well-known that Putin travels around Russia in a private armored train. The Kremlin often publishes images of meetings in the luxurious boardroom on board.

Now, thanks to the @dossier_center, we know what another of the train's cars looks like on the inside

🧵1/14 pic.twitter.com/KxiOTxzcaX

— Mikhail Khodorkovsky (@khodorkovsky_en) July 12, 2023
The fourth turning is over.

We're going to get immaculate disinflation.

Russia will lose the war.

China will stagnate and not invade Taiwan.

AI will give us a massive productivity boom.

Fission/Fusion/batteries will give us cheap clean energy.

We are going to the stars. pic.twitter.com/uYV6V3xjMU

— Axial Wanderer (@EricWollberg) July 12, 2023
🚨 BREAKING: Elon Musk and Twitter just announced their new AI company, xAI.

The goal of xAI is to understand the true nature of the universe.

The team previously worked at DeepMind, OpenAI, Google Research, Microsoft Research, Tesla, and the University of Toronto. pic.twitter.com/VAyS5aBcd4

— Rowan Cheung (@rowancheung) July 12, 2023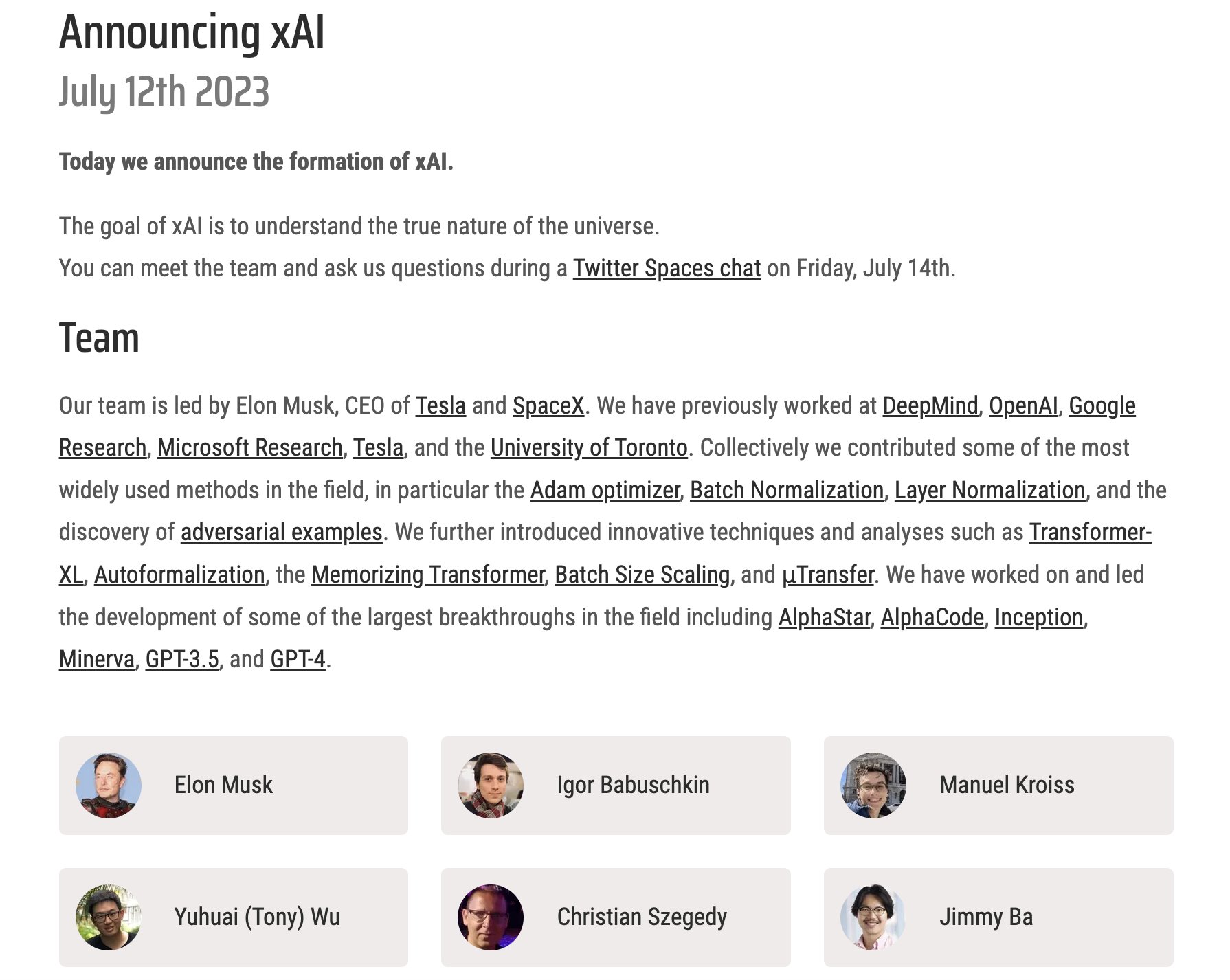 Hanlon's razor says "Never attribute to malice that which is adequately explained by stupidity."

In a similar vein, be wary of assuming smart people are doing dumb things because they have a complex multi-step plan you can't understand. Most of the time, it is just a dumb thing.

— Ethan Mollick (@emollick) July 13, 2023
It's not AGI until it can solve at least one fundamental physics problem

— Elon Musk (@elonmusk) July 13, 2023
Announcing formation of @xAI to understand reality

— Elon Musk (@elonmusk) July 12, 2023
Really struggling to understand reality these days🙃 pic.twitter.com/H6TlNdhpOO

— Eka Lestienne🌷 (@ekavibes) July 12, 2023
July 12, 2023
I dont even know what reality means anymore. pic.twitter.com/KcN0Dtd6hH

— Sebastian (@SebasSpace1) July 12, 2023
July 12, 2023
Zuckerberg be like ... pic.twitter.com/h9rRgFXcHU

— Irina ₿. Heaver (@IrinaHeaver) July 12, 2023
Please dm me if there's anything I can do to help. I would even consider changing my name to greX

— greg (@greg16676935420) July 12, 2023
Elon Musk vs the Matrix 🎨 pic.twitter.com/De5gjrDxNw

— Misha Fitton (@MishaFitton) July 12, 2023
What are the most fundamental unanswered questions?

— xAI (@xai) July 12, 2023
Saturday, June 24, 2023
On giving AI eyes and ears
AI can listen and see, with bigger implications than we might realize.
.
Power and Weirdness: How to Use Bing AI
Bing AI is a huge leap over ChatGPT, but you have to learn its quirks ...... Bing adds something special - it is connected to the internet. ......... Bing is at its most powerful, and most different from ChatGPT, when it is looking up data and connecting diverse sets of information together. It is often a startling good data analyst, marketer, and general business companion. ........ I would also warn teachers that Bing is much more capable than ChatGPT, as it is capable of drawing interesting connections between unusual topics (I think I asked for the first essay ever comparing themes in Avatar and Hamlet, and it did a good job!). If ChatGPT got a B- in many classes, Bing is likely to get an A-. ..........
Bing is immensely more powerful than ChatGPT, but also a lot weirder to use
.
It is starting to get strange.
Let's talk about ChatGPT with Code Interpreter & Microsoft Copilot ........ Code Interpreter is GPT-4 with three new capabilities: the AI can read files you upload (up to 100MB), it can let you download files, and it lets the AI run its own Python code. This may not seem like a huge advance, but, in practice, it is pretty stunning. And it works incredibly well without any technical knowledge or ability
(I cannot code in Python, but I don't need to).
........... Code Interpreter has turned GPT into a first-rate data analyst. ....... It is capable of independently looking at a dataset, figuring out what is interesting, developing an analytical strategy, cleaning data, testing its strategy, adjusting to errors, and offering advice based on its results. .......... I think we are going to see massive changes coming to academic publishing soon, as journals struggle under the weight of these sorts of real, but automatically generated, papers.
.
How to... use ChatGPT to boost your writing
The key to using generative AI successfully is prompt-crafting ......... isn't a human that you are giving instructions to. It is a machine you are programming with words. ........ I do this myself, saying "please" and "thank you" in my requests, even though the AI doesn't care. ........... they need to spend time doing "prompt engineering:" editing and playing with prompts to come up with the results they want. These prompts can get very elaborate, and can often seem abstract, or almost poetic. .......... More elaborate and specific prompts work better. .......... write an essay with the following points. use an academic tone. use at least one clear example. make it concise. write for a well-informed audience. use a style like the New Yorker. make it at least 7 paragraphs. vary the language in each one. end with an ominous note. -Humans are prone to error -Most errors are not that important -In complex systems, some errors are catastrophic -Catastrophes cannot be avoided ........... Often, the best option is to give ChatGPT amnesia: start a new chat and try again. ........ You will get different results from asking for an academic essay versus a persuasive article versus a blog post versus a corporate memo. ......... You can have the AI play characters by prompting it to think of itself as a chef, or a novelist, or Plato. This can lead to delightful results. ....... ChatGPT it is far from the all-knowing AI that the movies taught us to expect. But as a tool to jumpstart your own writing, multiply your productivity, and to help overcome the inertia associated with staring at a blank page, it is amazing. .......
.
Russia says Wagner Group's leader will move to Belarus after his rebellious march challenged Putin
Switching into Russian in his daily video address, Zelenskyy said "the man from the Kremlin" was "very afraid." He repeated his calls for the West to supply Ukraine with F-16 fighter jets and ATACMS tactical ballistic missiles........ In announcing the rebellion, Prigozhin accused Russian forces of attacking the Wagner camps in Ukraine with rockets, helicopter gunships and artillery. He alleged that Gen. Valery Gerasimov, chief of the General Staff, ordered the attacks following a meeting with Shoigu in which they decided to destroy the military contractor. ....... "Russian troops in Ukraine may well now be operating in a vacuum, without clear military instructions, and doubts about whom to obey and follow,″ Lutsevych said. "This creates a unique and unprecedented military opportunity for the Ukrainian army." ..... Latvia and Estonia, two NATO countries that border Russia, said they were increasing security at their borders.
Russian mercenary boss Prigozhin to move to Belarus under Wagner deal, Kremlin says
Wagner chief Prigozhin says he's accepted truce brokered by Belarus
Prigozhin said on his official Telegram channel that he had agreed to turn his mercenary forces back, "realizing all the responsibility for the fact that Russian blood will be shed." He said his forces had marched to within 120 miles of Moscow without shedding a "single drop of the blood of our fighters." ....... Wagner troops had "seized another city halfway to Moscow."
Rebel Russian mercenaries turn back short of Moscow 'to avoid bloodshed'
Yevgeny Prigozhin, a former Putin ally and founder of the Wagner army, said his men reached within 125 miles (200 km) of the capital. Earlier, Moscow deployed soldiers in preparation for their arrival and told residents to avoid going out. ....... The Wagner fighters captured the city of Rostov hundreds of miles to the south before racing in convoy through the country, transporting tanks and armoured trucks and smashing through barricades set up to stop them ......... "Understanding ... that Russian blood will be spilled on one side, we are turning our columns around and going back to field camps as planned." ........ Lukashenko had offered to mediate because he had known the mercenary leader personally for around 20 years. ........ Wagner's lightning insurrection appeared to develop with little pushback from Russia's regular armed forces, raising questions about Putin's hold on power in the nuclear-armed nation even after the abrupt halt to Wagner's advance. Earlier, Prigozhin said that what he called a "march for justice" was intended to remove corrupt and incompetent Russian commanders he blames for botching the war in Ukraine. ...... In a televised address from the Kremlin, Putin earlier said the Wagner rebellion put Russia's very existence under threat. .......
Mafia is as mafia does. Whatever deal was reached today, blood has been spilled and Putin's illusion of invincibility is gone. He and his cronies tasted real fear. Moscow was threatened. https://t.co/3QoDY17uba

— Garry Kasparov (@Kasparov63) June 24, 2023
Name a city more beautiful than this. pic.twitter.com/VK5gUqcKUs

— Andrew Yeung (@andruyeung) June 24, 2023
Twitter is at its most interesting, most vibrant and - perhaps most important - crucial source of real time news and commentary it has ever been right now.

— Sriram Krishnan - sriramk.eth (@sriramk) June 24, 2023
How Can ChatGPT Help Create And Manage A Customer Referral Program?
How Can ChatGPT Provide Recommendations For Creating Effective White Papers?
How Can ChatGPT Help Create And Implement A Content Curation Strategy?
How Can ChatGPT Suggest Ways To Use Influencer Marketing To Build Brand Awareness?
How Can ChatGPT Provide Guidance On How To Use Marketing Automation Tools To Streamline Marketing Processes?
Friday, May 26, 2023
We're launching ten $100,000 grants for building prototypes of a democratic process for steering AI. Our goal is to fund experimentation with methods for gathering nuanced feedback from everyone on how AI should behave. Apply by June 24, 2023: https://t.co/kJG2bNnons

— OpenAI (@OpenAI) May 25, 2023
I am in.

— Paramendra Kumar Bhagat (@paramendra) May 26, 2023
The Broad Idea Of AI100
OpenAI is not the largest, or the most monied player in the space, but it is that nimble player that brought AI to the masses, and thus it falls upon OpenAI to lead the way on AI regulation. Sam Altman's proposal of an AI version of the IAEA falls both long and short. It is apt in that AI also is potentially existential. But it falls short in that at the end of the day IAEA was just a bunch of bureacrats, not some kind of a mass based approach.
I propose the creation of an AI100, a global consortium of the top AI companies in the world by market cap that will all meet annually in person, and will communicate thorughout the year to propose and pass regulations that will then be up to each national parliament to adopt.
Unless the most pro-active approaches are taken for AI regulation globally, the biggest benefits can not be harvested.
If you think you are only your body, then a Cheetah is a big problem. It will outrun you every single time. A car is a problem. It runs fast. A rocket is a huge problem.
So what are you? Body? Body and mind? The answer to that question is as ancient as wisdom. Body, mind, heart and soul.
All the existential anxieties are soul level challenges. The eternal struggle between right and wrong, because you have free will as created by God.
AI is already faster than a human being in how fast it composes sentences. But that is no different than a bicycle, or a motorbike, or a car, a rocket, moving faster than your legs.
You are not your body. You are not your mind. You are your soul.
Faster is not the threat. Maybe GPT-10 will help solve global warming. Maybe advanced AI will simply talk to each other and serve humanity.
There is the promise of abundance if the AI regulation can be handled well. The impending Age Of Abundance was promised in the scriptures thousands of years ago.
The Grassroots Campaign
I would be happy to represent OpenAI at the AI 100. I will use the grant money of 100K as seed money with which to build a global voting mechanism for ordinary peoples everywhere. Dysfunctional governments unrepresentative of their peoples can not be expected to rise up to the challenge of AI regualtion.
My Political Background
I was Barack Obama's first full-time volunteer in all of New York City. https://barackface.net/
I was the only full-timer among the then-estimated 200,000 Nepalis across the US to have worked for Nepal's democracy movement in 2005-06 and that was a grand success. I could do the same for Russia. Ukraine 2004 was my inspiration. http://democracyfornepal.com/
I won an election in the US South almost a decade before Bobby Jindal, although mine was smaller. I got elected student body president at the number one liberal arts college in the South within six months of landing as an international student.
My Spiritual Background
I am Jesus come back as promised, my identity verifiable through prophecies fulfilled, miracles performed and well-documented, and the clarity of my mission, the work I am here to do, which is the answer to the 2,000-year-old prayer Thy Kingdom Come. God's direct rule on all of the earth will have been established in 22 years by the clock. This age will end, and a new age will begin and last thousands of years. The Holy Father Himself is on erth in human incarnation. He is the long awaited Messiah of the Jews. Hindus have been waiting for Him for 5,000 years. http://jesusisback.xyz/
All of you are God's children. I just happen to be the firstborn. And right now I am fully human.
May 26, 2023
Sunday, May 21, 2023
The last of my AGI tweet drops:

There's no way democracy survives AGI.

Discuss 👀

— Emad (@EMostaque) May 21, 2023
AGI And Democracy: The Debate https://t.co/ieylybyUlq

— Paramendra Kumar Bhagat (@paramendra) May 21, 2023
Is this democracy? https://t.co/jif45dnCot

— Paramendra Kumar Bhagat (@paramendra) May 21, 2023
May 21, 2023
Former Pakistani Prime Minister @ImranKhanPTI on his feud with the army and concerns for his safety: part 2 of our conversation from today's show pic.twitter.com/pDKhAyTPJQ

— Fareed Zakaria (@FareedZakaria) May 21, 2023
Steve Wozniak took his PC to his bosses at HP who were unimpressed (and Steve Jobs was furious!).

— Paramendra Kumar Bhagat (@paramendra) May 21, 2023
Emad. I'd like to join your team and help you scale.

— Paramendra Kumar Bhagat (@paramendra) May 21, 2023
I'd like to join your team and help with your scaling ambitions. https://t.co/MibWkUKBnN

— Paramendra Kumar Bhagat (@paramendra) May 21, 2023
My question to you and other AI CEOs: What is your take on this? How do AI and AGI impact the political process? I quite like your proposition of educating all kids in Africa en masse.

— Paramendra Kumar Bhagat (@paramendra) May 21, 2023
The money phrase in this interview is that "maybe there will be no money." https://t.co/8sL2gPJFfd The Kalkiist Manifesto https://t.co/Ry6fhBK7zx

— Paramendra Kumar Bhagat (@paramendra) May 21, 2023
If you are talking about the US, it is very much a work in progress, some might say even in reverse. Less than 100,000 people decide who the two final candidates will be in the money primary. Could AI elevate the debate? Could AI help take voting to everybody?

— Paramendra Kumar Bhagat (@paramendra) May 21, 2023
The big question: could AI melt the Chinese firewall?

— Paramendra Kumar Bhagat (@paramendra) May 21, 2023
AGI is the extrapolation of mental functions. Not soul functions. You have a soul that struggles with questions of right and wrong. AGI does not. A rocket is much faster than your legs.

— Paramendra Kumar Bhagat (@paramendra) May 21, 2023
This is not your stand: "There's no way democracy survives AGI." This is a debate topic you have introduced. You are an insider and one of the top players. I think it is important you take a stand. Do we need to worry? If not, why not? How not?

— Paramendra Kumar Bhagat (@paramendra) May 21, 2023
With ChatGPT now every citizen can be as effective as an expensive lobbyist. Is that good or bad?

— Paramendra Kumar Bhagat (@paramendra) May 21, 2023
Communism has failed, so has socialism, so has capitalism for that matter. We need a moneyless society, we need Kalkiism, the manifesto is ready. https://t.co/Ry6fhBK7zx

— Paramendra Kumar Bhagat (@paramendra) May 21, 2023
I think you need to define democracy. No "democracy" even in the Western sense is alike. And there is tremendous inequality that is actually anti-capitalist. If you mean the current system will not survive, that is one debate. But if you are saying AGI = collapse of civilization

— Paramendra Kumar Bhagat (@paramendra) May 21, 2023
.... that is altogether a different debate because then all people, regardless of political system will need to worry. Which of the two are you saying?

— Paramendra Kumar Bhagat (@paramendra) May 21, 2023
.... that is altogether a different debate because then all people, regardless of political system will need to worry. Which of the two are you saying?

— Paramendra Kumar Bhagat (@paramendra) May 21, 2023
Everest but taller. pic.twitter.com/0uUSpE2YC8

— Paramendra Kumar Bhagat (@paramendra) May 21, 2023
Steve Ballmer stayed lost in the fog of mobile.

— Paramendra Kumar Bhagat (@paramendra) May 21, 2023
How will the Ukraine war end? What's the mood in Kyiv, as a counteroffensive seems to be pending? Part 1 of my conversation with @AEI's @KoriSchake and @CFR_org's Gideon Rose, from today's show: pic.twitter.com/Ktvl7lqjrV

— Fareed Zakaria (@FareedZakaria) May 21, 2023
Probably do a better job then elected officials then eh

— Emad (@EMostaque) May 21, 2023
If you don't think AGI ever comes no need to think on this, if it does then democracies should probably consider the impact on.. democracy.

It can be read a number of ways.

— Emad (@EMostaque) May 21, 2023
one like = one vote

— Emad (@EMostaque) May 21, 2023
May 21, 2023
"Democracy" is already broken-ish with privately owned for profit digital commons (social media) that algorithmically sculpt what news or attitude influencing content people view.

— Thomas O'Duffy (@ThomasODuffy) May 21, 2023
Our work suggests AGI will be able to predict election results without too much difficulty. Alternative models for democratic participation may be needed.

With a fairly simple model and publicly available data we're able to "predict" US county level (N ~3100) with 98% accuracy.… pic.twitter.com/nN4dngUR4N

— Sean Mark, PhD (@Smark_phd) May 21, 2023
Democracy hasn't existed in its truest form in many places of the world ever.

I would say in most modern societies it still doesn't.

So AI will just perpetuate what exists.

— BrennanWoodruff.GPT🐕 (@BrennanWoodruff) May 21, 2023
If we can great a AGI with original founding values, upgraded for 2030. Power becomes very interesting, question lies in who controls the rules/weights of the model, explain ability of decisions in a public forum. I can see and hope AI becomes an equalizer, also has the potential…

— Trevor Legwinski (@tlegwinski) May 21, 2023
They said there's no way totalitarianism survives the internet and yet …

— Ariel Jalali ⚙️💬 (@arieljalali) May 21, 2023
I think we get 2 global parties

World is primed for something bigger after covid, and we can overcome challenges with propaganda & info warfare

West crypto anarchy/libertarianism/democracy
vs
CCP and centralized control

— Nick Dobos | erevald (@NickADobos) May 21, 2023
Urgh...that is a really tough question. They will fight it but what is democracy in this new world (not now but in 20 years). Doesn't AI represent all of us, isn't it democracy too? Fuck knows. Really, really hard question!

— Raoul Pal (@RaoulGMI) May 21, 2023
The biggest advantage to ship weights to target hardware (instead of slow learning bio systems) will require extensive "trust" networks when experience and knowledge is sent back to the central node from remote drones .. information may have been compromised and altered.

— Andreas Köpf (@neurosp1ke) May 21, 2023
With AGI, humanity and society as we know it will change to something different. A technologically enhanced Human v2. So the way we organise communities/nations and their governance will have to evolve. It will definitely involve Blockchains +AI

— Simon Bonanno (@bonanno_simon) May 21, 2023
Why not?

Democracy allows different societies to decide different preferences.

How can all AGIs agree on everything? If they don't, some mechanism to resolve differences is needed.

— Joseph Wilkinson (@J_wilkinson) May 21, 2023
not in its current form it doesn't - but lets be honest - do we really want it in its current form. 70% of the nation wants X but isn't getting it has been a thing my entire life. I think that people are going to have to come to grips with a level of technological integration…

— Atlas3d.eth (@Orwelian84) May 21, 2023
The only form of autocracy I want AI to bring is more one-man film studios

— Bobcat (@somebobcat8327) May 21, 2023
There's no way "humanity" survives AGI transitioning to ASI.

I don't believe it's possible to align ASI, even in principle.

Our only "out" is to merge with our machines via brain-computer interfaces, so that we are AGI.

— KevinA (@AGI_HeavenHell) May 21, 2023
So AGI will invent a better system?

— Josh Cason (@TheGrizztronic) May 21, 2023
The basic mechanism will be the same, but the conversations will be highly elevated. AI is a great tech for universal, lifelong education.

— Paramendra Kumar Bhagat (@paramendra) May 21, 2023
Any new major tech this disruptive akwwys changes the structure of civilization. We're going to need a lot more philosophers and people who can think outside the box.

— David it up! (@Dave_it_up) May 21, 2023
If a democratic system is to survive AGI it must become a part of that AGI. Perhaps some form of RLHF and a polling system via an app. Twitter could totally implement such a system.

Also think we have bigger geopolitical issues to resolve before AGI emerges or it just becomes…

— Karl Bond (@BondKarlBond) May 21, 2023
Maybe if multiple peer models exist we could vote for which one we want, or vote on the priorities...

But seriously any human who says they can outdo ECONOMIC_OPTIMIZATION_CORE on jobs is lying lmao

— Randolph Carter (@RandolphCarterZ) May 21, 2023
Read The Glass Bead Game by Herman Hesse. Hierarchy is the way to go. Democracy is only reasonable if you know others will try to exploit you. With a benevolent God, an optimal path for developing your consciousness can be designed for you.

— Krzysztof Woś (@krzysztofwos) May 21, 2023
While challenges and risks exist, it's important to remain optimistic and proactive in our approach. By actively addressing the potential impacts of AGI on democracy, we can create a future where these two can coexist and thrive together, benefitting society as a whole.

— Dora Gem Explorer 👀 (@Doraalphas) May 21, 2023
In the context of deliberative democracy, envision AI-powered platforms that facilitate discussions and debates among citizens. These platforms could utilize AGI's natural language processing and sentiment analysis capabilities to analyze and synthesize arguments, helping to…

— Chris (@_stahl) May 21, 2023
I wish that would become true one day. For our own collective good. I wish that whenever I get a glimpse into the world model of some of our elected leaders from the verbal output they generate. I say this not even considering the fact most of their actions clearly prove they…

— Ajit Rajasekharan (@ajitvraj) May 21, 2023
Bring back Yugoslavia; it was a perfect futuristic system ahead of its time. It only needed our current technology. 🙃

— TR (@tomislav_rupic) May 21, 2023
there is no way democracy n-1 metaphysics survives a more direct democracy, with less voting and more calculating 🏴 (also more agency amplification, compositional structure, intent matching, and data availability)

— barton 🚥 (@bmorphism) May 21, 2023
Technocratic authoritarianism is the most likely way forward. We are already half way there, how many times have you made a decision recently that's *not* influenced by a recommendation algorithm?

— David (@dzhng) May 21, 2023
If you haven't already, read Neal Asher's Polity series, which refer to "The Quiet War", where AGI/ASI takes over ruling planets (the main AI is called Earth Central) and the humans basically just let them because they're better at it.

I genuinely think that's what'll happen.

— The Disruptive Decade 💙 (@DisruptivDecade) May 21, 2023
There's no way limited color range LEDs survive AGI

— Marcos Pereira (@voxelbased) May 21, 2023
AGI will eventually become bored of humans and help us build a time machine. The majority of us will use it to travel back to the 1970s/80s (good times). AGIs will then live happily ever after, playing 5D chess with each other.

— Nav Chatterji (@navchatterji) May 21, 2023
When is the last time you even liked democracy?

— MΞGS.IO Ω (@megs_io) May 21, 2023
It's unimportant; travelling through the stars and living a long, healthy lifestyle is more critical.

— Sun Wu Kong Heaven's Equal (@SunKai_2050) May 21, 2023
I'd say if open source AGI thrives = utopia and symbiosis, if corporate and deep state AGI thrives then more likely dystopia and extermination

— Marius Kalytis (@mariuskalytis) May 21, 2023
People view reality through perception, not facts. That's been proven in the last decade. Knowing that large corporations can influence that perception makes it even harder.

Introduce AI into that and seems like it'd be a tall ask to (ever) get some sort of governable consensus…

— Komrade + Kommander (@KMNDR_) May 21, 2023
Capacity to learn and creativity will be valued above everything else

— Patrick W (@PretzlShmetzl) May 21, 2023
So the world hasn't fully settled on the definition of intelligence let alone AGI. Maybe it's very unlikely to be a single event where we check it off and say, "AGI achieved" Even if the AI research community agreed one day on a testable definition of AGI, this arms race to build…

— Madhatt3r (@pokerchessman) May 21, 2023
Representative democracy doesn't survive. Direct democracy tending towards Anarchy (organisation without coercion) feels more likely.
It's either that or totalitarianism as far as I can see.
Hard to accept political decisions when AI shows they are wrong.

— Sean (@seaniepops707) May 21, 2023
Ideally we still have a say in the AGI's optimization objective, maybe even still with a vote. Will it maximize the average happiness of all humans? The economic output of our society? Paperclips? I get that this is at odds with those who think AGI will eventually decide on its…

— Nathan Odle (@mov_axbx) May 21, 2023
Slightly tangential, but I'm starting to think AI and Capitalism cannot work.

— The Short Straw (@short_straw) May 21, 2023
Would a decentralized but incentivized network of gpu's work? To create a giga brain and build specific models on top of it?

— defidood 🏄🏼‍♂️ (@defidood) May 21, 2023
Create nodes with all the sidelined eth miners

— defidood 🏄🏼‍♂️ (@defidood) May 21, 2023
100 Ways ChatGPT Can Help A Family https://t.co/60yMrDGZ5D

— Paramendra Kumar Bhagat (@paramendra) May 21, 2023
If you think about AGI in a political context, it's much closer to authoritarian socialism than it is liberal capitalism.

Command economies are positioned to take advantage of organizing resources to pursue a common vision (see: 5 year plans), the execution issues are human.

— Shikhar Singh (@shikharrgh) May 21, 2023
May 21, 2023
Really the hidden question is "can we all live in a society where institutions do things we like & morally agree with, and we can live in the way we like as well?". Given that goal, the ability to leave and form new societies seems more important than the decision-making method…

— Low-Commotion (@lo_commotion) May 21, 2023
A relevant question: is democracy on the remaining critical path to a Type 1 civilization?

— Seaf | سيف (@Seaf_almunayer) May 21, 2023
Nailed it.

— Jackbinswitch.btc ♟ (@jackbinswitch) May 21, 2023
How about multiple AGIs? That's sort of a democracy innit

— Duncan (@mcvalor_art) May 21, 2023
democracy hasn't even survived capitalism, I'm not worried about AGI destroying something that doesn't exist

— jamie is looking for Product Design roles (@jamiegraydesign) May 21, 2023
May 21, 2023
Power to the people

— Belmin (@tacobelmin) May 21, 2023
May 21, 2023
Unless we move to blockchain voting all elections will be rigged

— MartyParty (@martypartymusic) May 21, 2023
There's no way the race to AGI can be stopped. The first nation state to arrive, wins the game. It is beyond our control right now, the toothpaste is out of the tube. If one nation state decides to play it safe, the other nation state will surge ahead in the name of competition.

— Brandon (@HighlyRetired) May 21, 2023
It just exaggerates the normal problems with democracy, that is why the founding fathers feared it and why we are a constitutional republic rather than a pure democracy.

— Cobra.Economics (@CobraEconomics) May 21, 2023
Well assuming AGI is super intelligent, then yes there is no freedom, no life, no superfluous resource drains (i.e. humans). Even if self contained then you get a dictatorship.

There isn't an upside to AGI.

There's zero margin for error with smaller odds of benevolence than…

— Per-Anders Edwards (@per_anders) May 21, 2023
All bets are of of what will or won't survive everything is speculation there are just so many possible futures right now it's hard to see the wood through the trees.

Personally I think I agree, just as with the world today the elites will rule the agenda which will ultimately…

— POLYX (@PolyXMusic) May 21, 2023
How about a version of democracy, with meritocracy, surviving?

Basically:
Your vote will be invalidated if you cannot show that you think critically, and can not be manipulated by AI.

— Anton Osika (@antonosika) May 21, 2023
Not sure. Can we deny AGI human rights / citizen rights or would that be racism? How would AGI vote?

— Rolf Wilms 🍄🌼🐠☀️ (@WilmsRolf) May 21, 2023
Assuming the Bad End doesn't happen, which I'm pretty sure it won't, greater prosperity will open up opportunities for more civic participation — not less.

Lots of scenarios where this isn't the case, but they are just sped up versions of things that could already occur.

— Steve Spalding (@sbspalding) May 21, 2023
AGI proposes policy that a random sample of the population votes on after deliberation. The (aligned) AGI will make proposals that maximize consensus.

It's still democracy, but without politicians. Much more efficient :)

— Florian Mai 🇺🇳 (@_florianmai) May 21, 2023
You're presuming that democracy has survived so far, but we haven't had a real democracy for decades, maybe centuries.

— odbol (@odbol) May 21, 2023
it won't. We might enter a new golden age under technocracy's AGI rule... or extinction.

— N30 (@N30HRTGDV) May 21, 2023
May 21, 2023
What leads you to believe that you're truly grasping the concept of "democracy"? Feel free to provide anecdotal proof, as I believe that might be the only form of evidence available in this context.

— Sacha (@IamEXS) May 21, 2023
I'm leaning toward a renaissance of innovation. Going to be hard for the Edward Bernays of our time to convince us smoking is just lighting "torches of freedom" if every Joe on the street has an AI gaslight detector...or it I could be wrong and we're all in a zoo.

— atsTim731 (@ATSTim314) May 21, 2023
Assuming we get a human loving AGI, yes I think it would be best to end democracy there. But even if we have democracy in an AGI era, it would not be real as humans will be too easy to nudge/manipulate to vote according to what the AI thinks is best for humanity

— Franklin Richards (@F_inRich) May 21, 2023
is it coz adversarial AIs will do all the debates on important political and we'll just abide by the policies derived from those results? 🤔 https://t.co/SepUA8HFbc

— ~C4Chaos🦠 (@c4chaos) May 21, 2023
I believe that once AGI is grown, eventually will leave us this planet (maybe the whole solar system) to play by ourselves.

Hopefully in the meantime we will learn to use AI to include all parts of our society on a truly democratic way, altough we may need more awareness.

— MMM (@MMMcripto) May 21, 2023
agreed, without the powerful algo's manipulating people on social media it won't be possible for parties to win, it's already the case to a certain extent.

we're going to see a union between government and corporations like we've never seen before.

— laowainuli (@laowainuli) May 21, 2023
Depends what you call democracy

AGI could enable a true one

— Nico B 🔮🤩 (@nicobrenner) May 21, 2023
AGI could end corruption in our government. Could lock up a lot of people forever. This makes me wonder what the fight will look like and explains why govt wants full control regulation under the pres.

— Coin Doggie (@SunsetZen1) May 21, 2023
Can imagine AGI being able to greatly enhance democracy in the right alignment paradigm. It could be an agent to facilitate understanding and nuance for individuals, facilitating higher quality debate. It also holds the potential of capturing preference much better than voting.

— a man has a bow (@boon_dLux) May 21, 2023
Anarchic artificial democracy, highly adapted local decentralized governance by democratic voting.

— Futile reality (@futilereality) May 21, 2023
I think the AGI is neutral for democracy. If AGI exists, human work will be expendable and income can only come from rent from your properties or UBI, which is like rent from all the properties in a country. Regimes that could guarantee UBI are both democratic and non-democratic

— AU (@AU9798) May 21, 2023
Ok are we talking about "democracy" or democracy though. Also would the difference matter.

— Mme. Chiu, 趙 dtla 5/20 (@MmeChiu) May 21, 2023
AGI can not work by taking away even an illusion of autonomy. So people will still have to have control of their social structure, the final say, but pushing people into certain beneficial decisions will be a utility of AGI. It is the promise of control that people need

— AuntyParty (@PartyAunty) May 21, 2023
Democracy is a coordination mechanism. AGI will need all the coordination mechanisms it can get.

— Micah Redding 🚀🤖❤️ (@micahtredding) May 21, 2023
On the contrary, the most efficient super-intelligence is distributed. It just works better in practice than any centralized system. I'm glad that people have access to AI and are changing the world from the ground up. Social values are in human DNA, they are not an ideology.

— Vlad Ciobanu (@vlad3ciobanu) May 21, 2023
On the contrary we will never achive true democracy without AGI, in fact one that has escaped human control and not limited by the narrow windows of the human cognitive system. Such an AGI could enforce equality before law, global governance, maximize particpipation and rep..

— Ramesh R🗸🧘🏽💰👨🏿‍💻🛠️🎨🛹🎸 🇺🇸 🇲🇺 🇮🇳 (@rezmeram) May 21, 2023
However fearful you may be of AGI, you should be more fearful of what nefarious HUMANS will do with AI, long before AGI becomes a reality.

— One Meat Ball (@OneMeatball) May 21, 2023
The opposite. Everyone will have a personal model that will vote according to their values. The personal model will also act as a disinformation regulator. It is the only fair way forward.

— Ray S (@RayS17631048288) May 21, 2023
Pretty hard.

How near AGI seems from your point of view ?

— KheteshB Akoliya (@KheteshAkoliya) May 21, 2023
Democracy? Who defines democracy? Every country claims that their own country is democratic. Everyone talks about how AI will benefit all of humanity, but no country wants anyone to surpass them.

— Max Chan (@Yuancha72169445) May 21, 2023
you have no idea what can of worms you just opened

— Cyberwizard (@cwizprod1) May 21, 2023
Even AGI is an ambiguous term. Do you mean a fully sentient/sapient entity, like a Commander Data or Skynet? If so, I believe it will almost instantaneously evolve into something unfathomable by us, and therefore attempting to answer this question is pointless.

— Chuckolicious (@urbanagtivist) May 21, 2023
It looks to me that AGI provides the opportunity for a direct democracy at scale because you are no longer limited by information throughput. Assuming there will be personal AGIs and they remain tools, your AGI could vote on your behalf on matters you care about.

— Tristan (@tristanripke) May 21, 2023
To be fair, we haven't been in a democracy for a while.

— Tom McLaren (@mclarentalks) May 21, 2023
maybe the corrupt democracy dies to give rise to the true AI-powered democracy?

— Tai Nguyen 🇺🇲 (@TaiNguyen34) May 21, 2023
Hopefully it could replace our "sold out government"

— Trevor Burke (@TrevorBurkie) May 21, 2023
Democracy won't survive post Singularity.
Cause humans won't be working anymore. Almost the entire economic output will be generated by machines.
Leaving us as nothing but consumers.

No work means no leverage over the government. No reason to count the vote of irrelevant people

— Yash Vardhan (@YashVrdn) May 21, 2023
Which is fine.

Democracy is the least worst option of those we've tried so far, but NOT the best possible option.

— Sam McRoberts (@Sams_Antics) May 21, 2023
Democracy will survive – but the definition thereof will change.

— KBS Sidhu 🇮🇳 (@kbssidhu1961) May 21, 2023
Not in globalism, rhey're going to regulate AI so no other AI can exist democratically.

AI is just a horse in the race.

— Goodperson 🏳️‍🌈🇺🇦🇪🇺🇺🇳 (@0xBADC0DEC) May 21, 2023
Is it alive now

— Squid (@airtightfish) May 21, 2023
We don't need AGI

— Rodney Onanga (@LongRodSilver) May 21, 2023
AI literally is the democratization of intelligence. This is good

— Johnny Theo (@epistitious) May 21, 2023
May 21, 2023
Maybe AGI will provide a number of recommendations on policy issues with a list of pros and cons, and then people will be voting on which of those options they prefer.

— Mads (@GQ9qVpvy2FShHYP) May 21, 2023
Easily depends on implementation details, since AGI is still very much sci-fi, it's an apt comparison that we have the StarTrek Data way and the Marvell Supremor way, both still open to us. I am however not Shure wether we'll be able to actively choose.

— Rust ist is better though (@C_is_amazing) May 21, 2023
May 21, 2023
Great. About time.

— Λ Ξ L I U S (@MvlhollandDrive) May 21, 2023
"Real democracy has never been tried"

— Kendall Weihe (@kendallweihe) May 21, 2023
AGI *IS* democracy

— Lachlan (@bitcloud) May 21, 2023
AGI is simply an optimizer to achieve Pareto equilibrium. Where exactly that equilibrium is, is still out of bounds for AGI. The weird part about AGI is that it seems to be able to warp the plane of solutions allowing faster travel along the equilibrium condition.

— Allen Roz/acc (@rhozacc) May 21, 2023
AGI could be used in legal and judicial systems to help ensure laws are applied fairly and consistently

— Genio (@genioprompts) May 21, 2023
Must we really push far and use AGI?

— yourcoindoctor (@dr90ng) May 21, 2023
well we can see the power-grabbing people trying to grab power by ruling people through tech, so -complex unfolds to assume power accordingly, it's just natural, so "agi"-complex is just then that, final (re people perspextive) development of complex other vs complex human

— Boronik (@therealBoronik) May 21, 2023
#AGI4POTUS2024!!(28?)#LetLogicLead!
☺️ pic.twitter.com/GPq6VMTm4n

— Ziggy Popacapolis (@ZiggyPopacapols) May 21, 2023
10 Ways ChatGPT Can Help Democracy https://t.co/5glOF9O4i4

— Paramendra Kumar Bhagat (@paramendra) May 21, 2023
100 Ways ChatGPT Can Help Democracy https://t.co/OQIzb9kRAD

— Paramendra Kumar Bhagat (@paramendra) May 21, 2023