If the trade war not only continues but escalates mindlessly to the point Huawei is further strangled, and China decides to put into play the rare earth minerals card which is a serious blow to the US high tech industry, and of course Mexico, which did not pay for Trump's wall, will not cave in to his latest threat, and already the US Chamber Of Commerce is suing Trump for the stupidity, and the stock market goes down 10% in one day, and America is officially in recession and Americans are losing jobs left and right while paying about 20% more for everything they buy, in that scenario Trump's approval rating could go down to the 35% zone. That is when he will lose support in the US Senate. It happened during the government shutdown. He ended that shutdown. He might also end the trade war. But trade is not an on-off switch.
In that 35% approval rating zone, there might be enough support for his impeachment and the House might finally go for it. In the meantime, the House is already building a case by investigations of Trump. Pelosi is passing the buck to the people. She things investigations will wear down Trump's support whereas immediate impeachment proceedings will rally Trump's base around him.
Trump could be impeached by the summer of 2020. Pence takes the seat, runs and is easily beat.
Of course, this is not painless for China. It is not painless for Mexico. But Trump really has not left much wiggle room for them. The Chinese economy, of course, will also get hurt.
Maybe it is the other way around. It is not that the trade war will drive down the US economy and Trump's popularity and then it will be the right time to impeach. He should be impeached so the worst of the trade war is not heaped on the ordinary American.
Besides, what is Pelosi investigating? Mueller already did that. And he is a professional.
Americans' support for impeaching Donald Trump rises
The poll also found that 32 percent agreed that Congress treated the Mueller report fairly, while 47 percent disagreed..... The number of Americans who said President Donald Trump should be impeached rose 5 percentage points to 45 percent since mid-April ...... House Speaker Nancy Pelosi re-emphasized that the leaders of the investigative committees in the Democratic-controlled House were taking a step-by-step approach. ........ "This is very methodical, it's very Constitution-based," Pelosi said. "We won't go any faster than the facts take us, or any slower than the facts take us." ...... House Democrats are pursuing multiple inquiries into Trump's presidency, his family and his business interests. ..... Trump is stonewalling at least a half-dozen such inquiries, refusing to disclose his tax returns, invoking executive privilege to keep the unredacted Mueller report under wraps and filing unprecedented lawsuits to block House investigators. ...... "It's becoming a circus over there" in Washington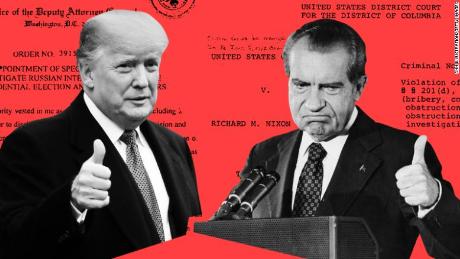 The end of Nixon's presidency proves Pelosi is wrong to wait on impeachment
a progressive Republican congressman from Wisconsin, William Steiger. The press, he complained, "is always looking for a political or self-serving motive for our votes." Reporters were not paying enough attention to the conscience of individual congressmen, as they approached a historic vote. ...... "This is an occasion when party loyalty demands too much," the elder Hogan said. "To base this decision on politics would not only violate my conscience but it would be a breach of my oath to uphold the Constitution. Those who oppose impeachment say it would weaken the presidency. In my view, if we do not impeach this president after all he has done, we would be weakening the presidency even more."..... Three days later, five more of the 17 Republican members of the Judiciary Committee followed Hogan to vote for the first of the articles of impeachment, alleging that Nixon obstructed justice in the the Watergate cover-up...... history forgets the other 11 Republicans of the committee who marched slavishly to the party line ...... Three other Republicans, Sen. Barry Goldwater, Sen. Hugh Scott and House Minority Leader John Rhodes, were critical in persuading a wavering Nixon not to drag the country through an impeachment trial in the Senate. They went to the White House on what would become the day before the president's resignation not to demand that Nixon leave office, but simply to "assess" with him his bleak situation.......
What happened in Washington in the summer of 1974 is a template for what could and perhaps should happen in the summer of 2019.
..... Hogan and his like-minded colleagues did not step forward at the outset of the impeachment process, but only at the very end, when historic votes loomed, votes that would force upon them the most profound personal consideration about what they valued and what they stood for..... Yet today's House leader, Nancy Pelosi, and her group are demanding that Republicans step forward now, at a preliminary stage in judging President Trump, as a condition of proceeding with impeachment. No formal process should even be initiated, she says, without significant Republican buy-in. This position is untenable...... The investigate, investigate, investigate strategy lets both Republicans and Democrats off the hook. The point of oversight should be to come to conclusions about presidential misconduct, and then do something about it. Only specific articles of impeachment allow for that. Voting, in public, with history in the balance, concentrates the mind and the conscience; investigations alone do not....... Waiting for weeks and even months for the courts to deliberate and decide questions of obstruction and abuse of power ensures that impeachment will die by October. In the fall, the nation will be turning its attention to the 2020 election with the Iowa caucuses only a few months away...... Impeachment hearings must get underway before the August recess of Congress. After that, forget about it. Trump will have won. No collusion, no obstruction will be the mantra of the land by fiat.
Donald Trump is no Richard Nixon. He's worse
Special counsel Robert S. Mueller III's report makes one thing clear: Donald Trump is no Richard Nixon. He is worse. And yet Trump seems almost sure to be spared Nixon's fate. This will do severe — possibly irreparable — damage to the vital norms that sustain American democracy....... Then came Trump. After smashing through dozens of other deeply rooted norms of American politics to win the presidency, he treated the post-Watergate consensus with similar contempt. ...... "The Russian government interfered in the 2016 presidential election in sweeping and systematic fashion" on behalf of Donald Trump. The FBI and Mueller set out to discover whether Trump's campaign was complicit, and Trump took extraordinary measures to thwart their efforts. Nixon's obstruction of the Watergate investigation looks almost innocent by comparison. ..... In the hyperpolarized political environment of the early 21st century, the president is a law unto himself.