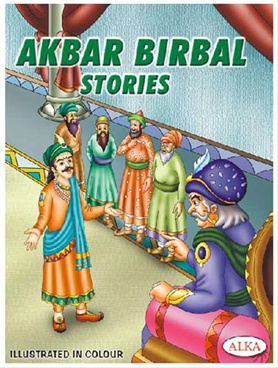 A few days back Donald Trump said something nice about Indians. That was the first time. Otherwise he has not said anything nice about anybody, not Mexicans, not Muslims, not the Chinese, not white women. But he is trying to play nice with Indians. That's a breath of fresh air.
What The Donald does not seem to understand is there are more Muslims in India than anywhere else in the world. Muslims came to India because there was too much sand where they were, and this was before oil, and so they came for the green. They came, they saw, they conquered. There are more Muslims on the Indian sub-continent than anywhere else in the world. India is the number one Muslim hub in the world. Muslims rule Bollywood, for example. India has had two Muslim presidents so far compared to only one black president in America. Don't even get me started on Akbar. Akbar Birbal stories are still sold on the footpaths of India at dirt cheap prices. Akbar's propaganda machine is still running full throttle. Compare that to the Soviet propaganda machine. Long gone. Gone with the wind.
Conversely, there are more people from India than from anywhere else in the world in the now Arab countries. Talk about people to people contact.
So, Donald, you can't do right by Indians, and talk shit about Muslims. Can not do. Eepikaiye!
For Putin Assad Is Himself
What Donald Trump Thinks About India
U.S. Republican presidential candidate Donald Trump thinks India is doing well, but that the country isn't getting the attention it deserves....... "India is doing great. Nobody talks about it," Mr. Trump told CNN's Wolf Blitzer Monday...... Mr. Trump's brief praise for the fast-growing South Asian economy was a reaction to comments he made in a 2007 interview with Mr. Blitzer, in which he expressed concern about the U.S. economy being overtaken by India and China. ...... "We've gone from a tremendous power that is respected all over the world to somewhat of a laughing stock and all of a sudden, people are talking about China and India and other places," Mr. Trump said at the time. ........ On Monday, he asserted: "That was the beginning of China. That was the beginning of India." ..... His praise for India followed in the same breath. "By the way, India is doing great. Nobody talks about it. I have big jobs going up in India. But India is doing great," he said....... India's $2-trillion gross domestic product is a fraction of China's, at $10 trillion, and that of the U.S. at $17 trillion, according to the World Bank. GDP per capita in the U.S. is around $55,000, while in India it is about $1,500 and in China it is $7,400...... Harvard University economists have projected that India's economy will grow at an average of 7% through 2024, the fastest of any major economy. ...... A recent World Economic Forum survey found that 17% of India's population was undernourished. The prevalence of undernourishment in China was about 11%. ....... The 69-year-old billionaire has been trying for years to capitalize on his brand in India, teaming up with local property developers. In 2014, he announced the launch of Trump Tower Mumbai, an 800-foot skyscraper with 75 stories tobe erected in city's upscale neighborhood of Worli by Indian developer Lodha Group. ...... "It has been my desire for many years to be involved in a great project in Mumbai, and it is my honor to bring the Trump lifestyles to the citizens of this truly global metropolis," he said in a statement at the time. ...... Priced from $1.6 million, the three- and four-bedroom apartments in this property advertise indoor Jacuzzis, Poggenpohl kitchen cabinets and automatic toilets. ...... Before that, in August 2012, developer Panchshil Realty announced another luxury residential property with the Trump name, in Pune, a city about 90 miles from Mumbai. The Trump Towers Pune feature two towers with 23 stories each. Initially expected to be completed by the end of 2015, the project is still under construction. ..... According to the findings of a new Wall Street Journal/NBC News poll, a third of people who said they would vote in a Republican primary said they favored Mr. Trump to be the GOP nominee, followed by Texas senator Ted Cruz at 20% support and Florida Sen. Marco Rubio at 13%.
Saudi Arabia: SuperPower?