पश्चिम बंगाल चुनाव से पहले प्रशांत राजनीतिक कंसल्टिंग छोड़ राजनीति मे आ गए थे। नीतिश के घोषित उत्तराधिकारी बन गए थे। फिर नीतिश ने पार्टी से निकाल दिया। बीजेपी के साथ मिल के सरकार चला रहे हैं और पार्टी के उपाध्यक्ष बीजेपी के विपक्ष में बोले पर बोले जा रहे हैं। तो वो फिर राजनीतिक कंसल्टिंग करने आ गए। पश्चिम बंगाल में मारा तमाचा बीजेपी को कस के। पश्चिम बंगाल चुनाव पराजय का राष्ट्रिय महत्व है।
उसके बाद फिर उन्होंने घोषणा किया कि छोड़ दिया ये सब। अब राजनीतिक कंसल्टिंग नहीं करेंगे। अब राजनीति करेंगे। मुझे बहुत अच्छा लगा। इतना प्रतिभाशाली आदमी। दुसरो को कब तक जिताते रहिएगा? खुद जितने की सोचिए। तो फिर मुम्बइ गए बुलाए मेहमान के तरह। लंच पर क्या खाया वो बात तो बाहर नहीं आयी। लेकिन देश की राजनीति गर्मा गयी।
थर्ड फ्रंट, फोर्थ फ्रंट, फ़ेडरल फ्रंट, लेफ्ट फ्रंट, यहाँ तक कि युपीए सब घिसीपिटी आईडिया। २०२४ में अगर मोदी को चैलेंज करना है तो कुछ नया करना होगा। मेरे सामने चेहरा आया केजरीवाल का। लेकिन अब कुछ दिन बाद सोंच रहा हुँ प्रशांत किशोर को ही आगे आना होगा।
पश्चिम बंगाल चुनाव से पहले ही उन्होंने घोषणा किया था कि बिहार में बीजेपी ९२ लाख की बात करती है, उनके पास अभी से एक करोड़ बिहारी जुड़ चुके हैं। अर्थात एक नयी पार्टी। तो एक ऐसी पार्टी लांच करिए जो एक साथ पुरे हिंदी बेल्ट को स्वीप करे २०२४ में। नहीं तो कमसेकम बिहार और उत्तर प्रदेश को तो स्वीप करे ही। लोक सभा चलिए। बिहार के आर्थिक प्रगति के लिए जो काम केंद्र से दिल्ली से कर सकते हैं वो पटना से संभव ही नहीं।
कोइ ऐसा नाम जिस में दल या पार्टी शब्द ही ना हो। नयी दिशा? एमानुएल मेक्रोन एक ही बार में सत्ता में पहुँच गए। प्रशांत किशोर अकेले वो सक्ष हैं जो वो बात भारत में कर सकते हैं। पार्टी का नाम नयी दिशा, मोर्चे का नाम नया मोर्चा।
Prashant Kishor slammed by JD(U) chief: 'Democracy not like running a company'
Janata Dal (United) chief RCP Singh said that Prashant Kishor has no base in Bihar. He also said that Kishor has shown prime ministerial dreams to many politicians, according to Live Hindustan. ........ He also said that the election victories in Bihar, West Bengal and Tamil Nadu were due to the voters and not any person ........ Kishor also handled the poll strategy of DMK in the Tamil Nadu assembly elections this year. He had also been a poll strategist for the Janata Dal-United (JD-U) and Rashtriya Janata Dal (RJD) alliance in the 2015 Bihar assembly polls. He was also roped in by the Arvind Kejriwal-led Aam Aadmi Party for the campaign in the run-up to the Delhi assembly elections. ......... Kishor was sacked from the JD(U) in January last year by Nitish Kumar who was the party chief at that time for his stand against the citizenship law that enables the government to fast-track citizenship for non-Muslims from three neighbouring Muslim-majority countries, Pakistan, Afghanistan and Bangladesh.
Kishor had said that he will continue to be politically involved in his home state of Bihar.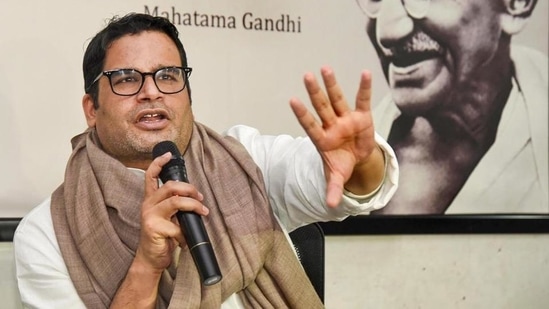 Shah Rukh Khan Finds His 'Hero' In Prashant Kishore For Web Series As The Duo To Meet At Mannat?
Prashant Kishore has previously met Nationalist Congress Party chief Sharad Pawar in Mumbai, and the meeting went for nearly three hours. ......... political strategist Prashant Kishore will meet Shah Rukh Khan at his residence Mannat and discuss the web series project. While there are no details about the project but report claim that it will produce by Khan's Red Chillies production.
Poll strategist Prashant Kishor bows out on a high
Kishor is basking in the glory of the victories of TMC in WB and DMK in Tamil Nadu ......... Kishor, when asked why he wanted to quit strategising for political parties, said he has had enough of it. However, the strategist has so far had a remarkable rate of success as he has designed campaigns for some of the most prominent politicians in the country, and the Trinamool's success in what has been widely recognised as an extremely tough election, has only boosted his stock as a political tactician. ........... A former UN official who has worked in the area of social policy and strategic planning, and a public health expert by training, Kishor's first big political stint was helping Narendra Modi win his third term as chief minister of Gujarat in 2013. ..........
He emerged as Modi's key strategist for all election-related work in 2013, and he and his brainchild Citizens for Accountable Governance helped design an extremely effective campaign for Modi for the Lok Sabha elections in 2014, a highlight of which was the 'Chai Pe Charcha' gatherings.
........... his magic did not work for the Congress in the assembly elections in Uttar Pradesh and Uttarakhand in 2017. .........
The political pandit believes that there can be no war without a general, and insists on the campaign having a face.
His critics, on the other hand, claim that he has been choosing to work with parties that are in any case expected to win.
प्रशांत किशोर क्या बिहार को २०% आर्थिक वृद्धि दर २० साल के लिए दे सकते हैं?
प्रशांत किशोर को खुद आगे आना होगा https://t.co/A3m66qe6YT #india #bihar #india2024 #PrashantKishor @PrashantKishor @JoinPKTeam @IndianPAC

— Paramendra Kumar Bhagat (@paramendra) July 1, 2021